Product Features
Large display screen - dual display LCD for enhanced readability, provides comprehensive meter information
Waterproof, dustproof housing - IP67 rated, maintains the integrity of your tester evenin harsh conditions. Plus it floats!
User-replaceable sensor - reuse the same meter body many times
Double junction sensor offers longer lasting usage
Push-button calibration with auto-buffer recognition - quick, easy calibration with no calibration mistakes
Automatic Temperature Compensation (ATC)- ensures optimum accuracy under fluctuating temperatures
Choice of USA or NIST pH buffer standards with up to 3 points
Temperature display readout simultaneously
Auto power-off saves battery power after non-use
"Hold" Function freezes reading momentarily for easy viewing
Self-diagnostic for easy troubleshooting (e.g battery indicator, message codes)
Enhanced power saving allows extended power consumption up to 500 hours with single battery set
Applications
General: Ideal for quick and accurate pH checks in pools and spas, aquariums and hydroponics operations, or anywhere frequent pH testing is required. accumet™ AET15 pH Tester meets requirements for many standard environmental and ASTM test methods.
Industrial: Use for cooling towers, food processing water testing and process/wastewater testing in metal finishing, photo development, printing and chemical industries.
Educational: Useful in schools, many laboratory applications and ecology studies.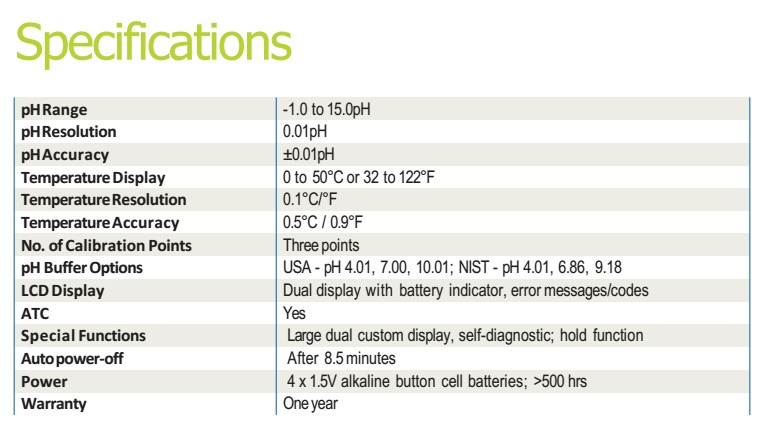 ​